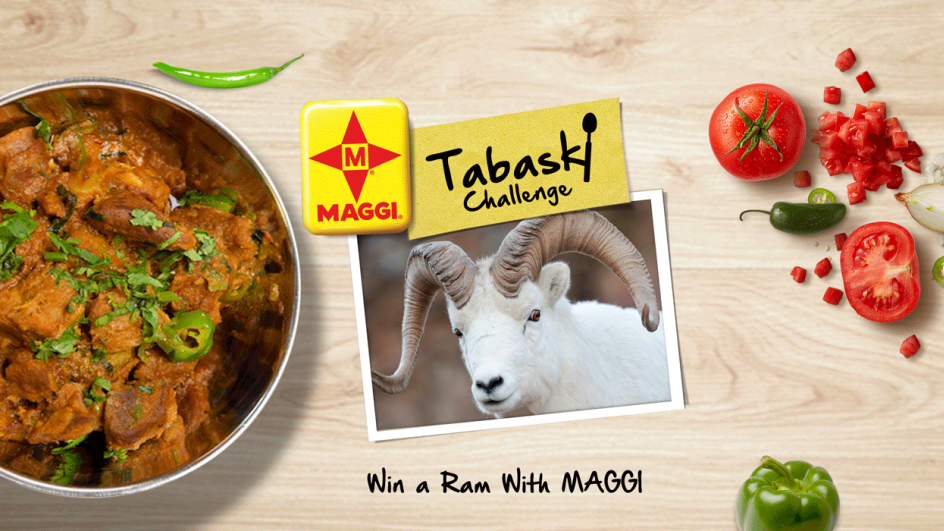 This Sallah, MAGGI will reward you for all the difference you make with your greatest recipes. Stand the chance of winning a free ram to share and enjoy with your family.

How?
Cook your best recipe with MAGGI seasoning
Take a picture of the dish with the MAGGI seasoning on the side
Capture a moment with your family enjoying the meal
Share the pictures of the dish and of your family enjoying the meal using the MAGGI filter and the hashtag #MAGGISallah or #MAGGITabaski

Duration
Competition lasts from 9 July till 17 July 2021

Fingers crossed. Let's see who wins!
MAGGI SALLAH CHALLENGE – FAQS
.
Q : En quoi consiste le challenge Tabaski ?
Le MAGGI Tabaski Challenge est un challenge en ligne de MAGGI où vous tentez de gagner un mouton chaque semaine, à partager avec votre famille. Partagez simplement des photos des plats que vous et votre famille dégustez, en utilisant le filtre.
.
Q : Comment puis-je participer ?
Tout d'abord, préparez votre meilleure recette avec MAGGI et partagez une photo du plat et de votre famille en train de le déguster, en utilisant le filtre. Utilisez les hashtags #MAGGITabaskiChallenge #MAGGITabaski et croisez les doigts pour gagner.
.
Q : Combien de temps dure la campagne ?
La campagne commence le 9 juillet 2021 et se termine le 23 juillet 2021
.
Q : Qu'est-ce que j'ai à gagner si je participe ?
Il y a un mouton par semaine à gagner.
.
Q : Comment puis-je récupérer mon prix ?
Une fois les gagnants sélectionnés pour la semaine, nous les contacterons pour déterminer avec eux la meilleure façon de procéder.